Plush Unicorn Toys for Kids.
Who can resist these mythical creatures with their sparkle and vibrant colours? The unicorn trend has seen a rise in magically themed toys such as unicorn rocking horses for baby and cycle ride on for older kids. There's plenty of movie toys too along with interactive, soft plush, crafts, pony cycles and play-sets. Discover must-have movie toys, collectables and Ty My Little Pony extra large beanie toys. Children of all ages can enjoy their own make-believe world of magic and mystical characters for hours of role-play fun. So help nurture their imagination with the latest range of unicorn toys for kids.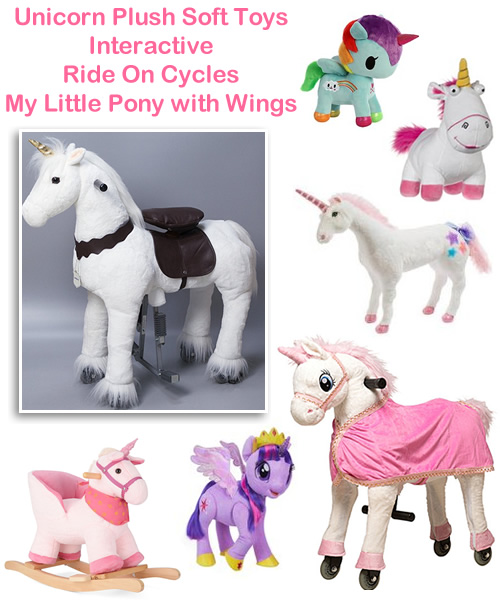 Interactive Unicorn and My Little Pony with Wings & Horn
Smart toys from VTech move, walk, talk and interact with fun phrases, songs and so much more. VTech Toot-Toot Friends characters and playsets include Princess Addie and her Unicorn with carriage and baby unicorn. My Little Pony The Movie my magical Princess Twilight Sparkle is a fabulous gift for ages 3 years old upwards. A wondrous unicorn gift that responds to sound and touch. The magical pony has Pegasus wings that flutter and a responsive horn. In addition to moving her head and hoof, she has a beautiful mane and tail to style along with a tiara to complete her look. Other features include poseable legs to help her sit and stand, plus over 90 phrases, magical spells and stories to hear.
Unicorn Toys, Ride ons and Plush Rocking Horses
Unicorn Rocker & Rocking Horses
Pretty pink rocking horse in the shape of a unicorn is going to be a star turn at Christmas. Perfect for a birthday present too for tiny tots of 9 months upwards. Cute, soft to touch and interactive qualities are attractive features that will entertain for ages. Rocking Horses and Pony unicorn rockers come with a colourful coat with padded leather-like saddle adding to the real riding experience. Boys and girls can delight in the realistic sounds and movements adding to the rock away fun. Great for gentle exercise and building a toddler's strength too.
White & Pink Unicorn Cycle Ride-on
The next best thing to owning your own pony is the amazing pony cycle ride on toy. Unique horse, pony and unicorn on wheels ride like a real horse. Beautifully made with the softest plush material in white, pink and brown. Once the child is in the saddle all they need to do is push down on the pedals and the pony unicorn will start to move. Best of all there are no batteries required it's simply kid-powered! An innovative ride-on to keep the kids fit and entertained at the same time. As well as promoting balance and coordination skills it encourages exercise in the most imaginative way.