Hansa Plush Sit on Pony
Make someone's Christmas all the more special with this magnificent chestnut horse by Hansa. This handsome looking animal is perfect for pony fans. Made to the highest standards from the finest materials and with a sturdy structural frame for hours of playtime fun. Complete with saddle and bridle will soon see young ones taking the reins on their own imaginative adventures. Equine enthusiasts will love the lifelike features, plush coat and careful attention to detail. This beautiful hand-crafted ride-on is sure to be the focal point of the playroom. Dimensions: H55 x W18 x D70cm.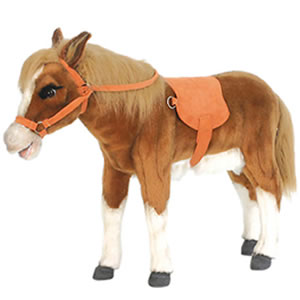 View Plush More Ride-on Horse Toys
Traditional Rocking Horses
Discover a wonderful range of rocking horses for all ages. From classic wooden rockers to traditional Victorian style rocking horses they'll treasure forever. Hours of fun awaits and happy childhood memories made with these delightful horse and pony toys. Details of the Shetland pony rocker includes painted features with side supports on the seats for safety and footrests for older children.
Plush Ride on Pony & Play Horses
The heirloom quality Rivelin is an exquisite traditional rocking horse with elegant curves and smooth lines. Features light coloured hair, real horsehair mane and tail, light beech stand, removable saddlery, personalised brass plaque and drawstring suede grooming bag containing brush and body cloth.
Soft Musical Pull Along Pony
A multicoloured pull along toy that is sure to be loved by little ones. The Jellycat Maypole Pony is a lovely toy that's soft, attractive and comes with a sweet little lullaby perfect for newborns. Give this multi-striped pony a tug and hear a gentle tinkling sound or let the soothing tune and pretty ribbons entertain baby.