Soft Plush Baby Toys
This robust and soft musical pull plush Jellycat toy is perfectly made for plenty of attention. An ideal Christmas present for newborns and a favourite friend to have around at changing time. Pull its tail and he plays a soothing melody and his pretty coat is soft and snug to cuddle up to. A jolly addition for the nursery this multi-stripe pony has a colourful ribbon mane and loves to be pulled along. With a gentle tug of the tail, you'll hear a lovely soothing tune to entertain little ones. A great bedtime toy that is sure to become a favourite as the baby grows. Dimensions H23cm. Suitable from Birth.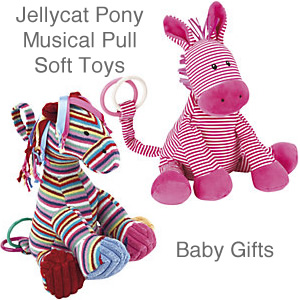 Pony Musical Pull Soft Toy
Jellycat distributes soft luxurious toys around the world with new and innovative designs coming out each year. Designed in the UK, these quirky little characters are sure to delight. Soft plush pony toys for tiny tots and toddlers include the Maypole Pony Toy and the playful Skiddle Musical Pull Soft Toy. His friendly cheeky looking face will soon become the perfect playmate. Features include striking pink and white stripes, cute mane and tail. Height 26cm.
Pony Rattles and Squeaker Toys
The bright and cheery pony collection also has a range of squeaker toys and rattles to play with. Adorable stripey creations with loveable faces, tasselled tails and soft ears. The Jazzie pony is as his name suggests and brings splashes of colour to the collection along with soft fur and a squeaky tummy. Other playmates include a knitted pony with a fun rattle, ribbon tail and impressive mane. The activity gift collection of interactive are super soft fun and exciting with musical pulls and plastic rings making them a great first toy.