Role Play Horse Toys
Make sure the little ones are entertained during the Christmas holidays with plenty of fun toys to play with. Beautiful crafted toys and games to delight kids of all ages can be found at M&S. Discover the little extras that make a difference with novelty treats that won't break the bank. An impressive reproduction of horse models is waiting to delight girls and boys alike. These inexpensive toy horses are perfect for horse lovers and are just the right size to fill a stocking. They are great for role play and to collect.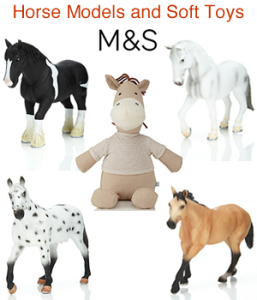 Play and Collect Horse Models
An accurately depicted collection is perfectly priced and made to a high standard. A whole stable can be filled with different breeds of horses for innovative and imaginary playtime sessions. The range is suitable for ages 3+ and is not suitable for children under 36 months due to small parts.
Clydesdale Horse Toy: A beautiful black and white animal with extensive feathering. A bread of draught horse named after the region in Scotland from where they derived from. A versatile addition to the stable used for a multitude of purposes including farming. Ideal horse models for creating fun farm games at home. Dimensions 10.5 x 4 x 15 .
Quarter Horse Toy: A keen sprinter and refined well-muscled racehorse are going to fast track the rest of his friends in the stable. 10 x 4 x 16.5.
Lipizzaner Horse Toy: a Realistically detailed breed of horse generally grey in colour and closely associated with the Spanish Riding School of Vienna, Austria. Playtime is sure to include stylised jumps and showy dressage movements. 14 x 3 x 15
Appaloosa Horse Toy: These type animals are known for their distinctive "leopard-like" spotted coat and striped hooves A standout figurine to inspire creative play.  10.5 x 4.5 x 13.5
Striped Horse Soft Toy
Now for some hugs and cuddles with soft toys at M&S. For younger ones, the loveable soft horse toy comes dressed in a cute striped top with dark brown tail and long mane feature. His light brown and cream body is made from cotton and polyester. Height 27cm Width 12cm Depth 17cm. Suitable for ages 1+.