Large & Small Horse Unicorn Ride-on Cycles
Gorgeous soft to touch riding animals will see youngsters go a little further than a traditional rocking horse. Animal riding horses at Selfridges are a great way to keep youngsters fit with their healthy motion offering much fun and enjoyment. They help develop balance co-ordination and motor skills. Children operate and steer the animal themselves. Features include a luxuriously soft body,  steerage with an innovative driving system, handles, footrests and plastic wheels. New to the stables are magical Unicorn ride on cycle toys in pink and white.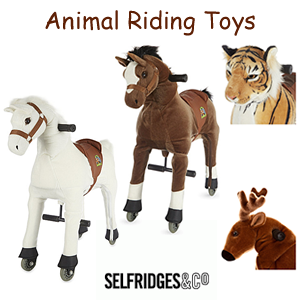 Sorry, these are no longer available at Selfridges. See more animal rideon toys below.
Ideal ride-on toy for children between the ages of 3 to 5 years. Max weight 40kg. Other details: Height 67cm, width 27cm, length 70cm. The saddle height is 49cm. Available in chocolate brown and white.
View More Pony Cycles & Riding Animals
Reindeer and Tiger Ride-on Toys
In addition to the white and brown moving horses with wheels, there is a striking Tiger ride-on toy. Its life-like colouring and attractive features are sure to be a favourite with the children. Easy motion with its unique driving system makes it so much more fun riding around. Equipped with comfortable handles for safe steering, footrests and wheels. Another moving ride-on has a Christmas theme to it, the small Reindeer sit-on toy with moving wheels has a plush body and cute features little girls and boys will adore.
My Little Pony Toys at Selfridges
My Little Pony fans will love the new collection of Beanie soft toys, play sets, styling sets and games arriving in time for Christmas at Selfridges. The latest Applejack toy with its mane of flowing hair and pretty embroidery will soon become a magical friend. The smaller soft and cuddly Pinky Pie Beanie Baby features a bright pink mane, balloon motif and signature big blue eyes. Pony playsets offer hours of imaginary play among children and best of all they can be taken anywhere using the top carry handle.