Pony Ride On Cycles and Toys
Pony Ride-On Toys
Here at Giddy-up pony, we aim to make choosing a pony ride on easier with a ride on toy for all ages. Both boys and girls will love the latest pony cycles, walking horse toys and unicorn ride-on too.
---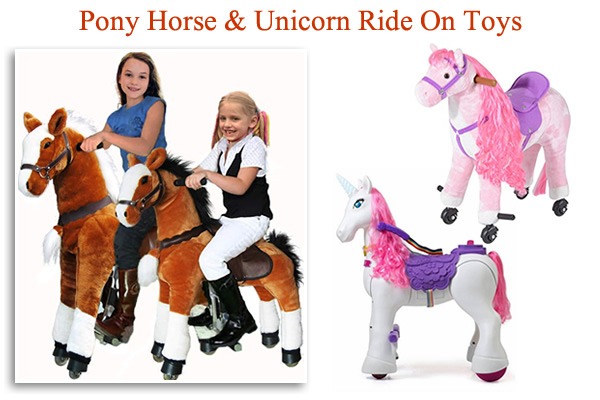 ---
Active toddlers are full of energy so what better way to keep them moving than with their very own interactive pony. Best of all big and small a plush animal ride on is great for indoor and outdoor play. You will find standing play horses with sound, moving ponies on wheels along with traditional rocking horses and baby rockers.
Plush Pony Cycles
The unique pony cycle is a sure favourite when it comes to exciting races with friends. Kids can show off there riding skills and have hours of fun on their new trusted steed! More importantly, the control action improves balance and coordination while getting kids active.
UFREE Large Mechanical Rocking Horse Toy Bounce up and Down, Ride on Walking Pony for Children 6 Years to Adult ( White Mane and Tail, Height 44 Inch)
by UFREE
amazon.co.uk
Children just move up and down with their feet on the pedals to ride the pony, horse or unicorn. Features include wooden handles, tan faux leather seat and harness and plush fabric. A soft mane and tail are brushable so little ones can groom their pony during imaginative play.
Play Horses and Pony Cycles
---
Unicorn Ride-On with Sound and Soft Toys
The ever-popular unicorn has also joined the race day event with similar moving and play action as the pony cycle. Children rise and fall in the saddle to get the unicorn's legs and head moving and create a galloping motion.
---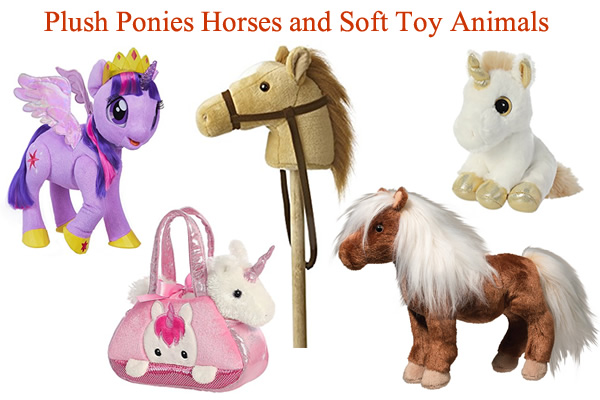 ---
In addition to ride-ons with wheels, there are unicorn rocking horses with sound in soft plush material and padded saddle. Interactive toy features allow the child to squeeze the horse's ears to hear it neigh.
Soft Toys
---
Traditional Wooden Rocking Horses
The traditional wooden rocking horse has a long history serving many family generations past and present. These quality well-crafted rocking horses will also be enjoyed for years to come too.
---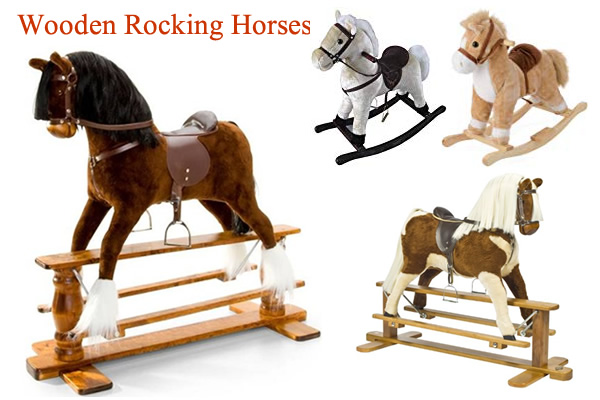 ---
Expertly handmade wooden rocking horses come with their own style personality and in a range of small medium and large sizes. Features natural shape of a horse's head and carved nose, soft padded saddle and adjustable stirrups. Plush baby rockers and small wooden rocking horse for toddlers are available too.
Rocking Horses
NEW Plush Rocking Horse - Grey / White Deluxe with Mane Saddle Bridle Stirrups Wooden Rockers 12m+ - Includes Sound Effects
amazon.co.uk
The Rocking Horse Co. - Pink / White Rocking Unicorn - with Horn, Mane & Tail - Plush Finish - Complete with Sounds - On solid wood rockers
amazon.co.uk
---
Horses Unicorn and Pony Toys
Equestrian toys are perfect for young ones who love animals and all things to do with horses and ponies. For pony loving children there is, of course, the whole range of My Little Pony toys to keep them happy for hours.
---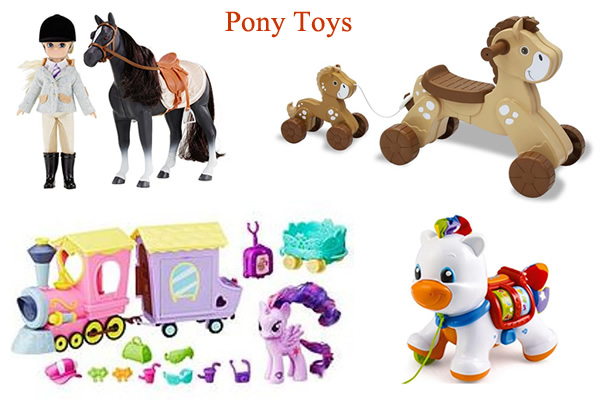 ---
There are plenty of novelty gifts, plush pony toys and games along with the unicorn toys too. For outdoor play the Giddy Up pony plush hobby horse and ride on pony cycle offers great fun.
Pony Toys
---
Play Horses My Little Pony Playsets
More animal adventures can be enjoyed with pony and horse playsets. Here you will find Playmobil LEGO DUPLO, My Little Pony, Hasbro and Wow pony toys.
---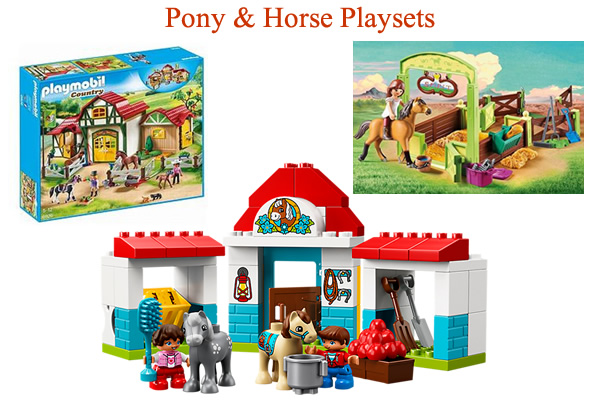 ---
There are many types of settings including grooming stations, horse paddock, pony farm and tractor and stables. Plus Lottie doll with horse and a selection of preschool pull along toys and farm friends hand puppets.
Farm Animals & Pony Playsets
---
Interactive Animal Toys
Time for some magic and a whole range of play possibilities with interactive animal toys. Whether it's a racing pony cycle, a 3 in 1 ride-on rocker or an enchanted talking unicorn there's something for everyone.
---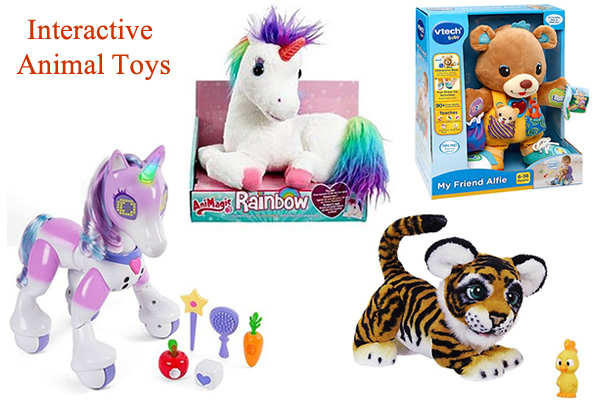 ---
Popular interactive toys include Zoomer show pony, Vtech magical make-up unicorn and Little Live Pets unicorn. All dancing, singing and talking toys come with light-up features, musical sounds and plenty of learning fun.
Interactive Animal Toys
---
Pony Styling Sets & Craft Toys
Encourage your little ones creative capabilities with pony themed arts and crafts, styling sets and more! My Little Pony paint and style set includes pony figurines to decorate, paints, paintbrushes, stickers, hairbrushes and beads.
---
---
Brands such as Aquabeads, John Adams and Crayola are also a favourite with young ones. Popular crafting kits include: Make your own Unicorn jewellery, glitter studio, moulds and paints, drawing mats, complete art case and pony styling heads.
Arts and Crafts Pony Styling Kits
Arts and Crafts Pony Styling Kits
---